Version Update - 3.0
01/10/2014 - 10:01
Version 3.1 - The utility now mpas the Q: drive.
10/30/2013 - 4:26
Version 3.0 - The utility now maps the W: drive.
05/19/2011 - 10:57
Version 2.2 - The utility now maps the T: drive automatically as well.
09/01/2010 - 11:50
Version 2.1 - The utility now maps the H: drive, if the user should have one. If they do not normally have an H: drive, it will not create one.
04/22/2010 - 13:49
Version 2 - This new version displays detailed status messages that will help CCIT more easily troubleshoot network drive mapping issues.
Description
This program will automatically map your "O" and "P" network drives. It will only map the drives if the computer you run it on is an on-campus CCIT machine or if you run it while connected to Columbia's VPN while off campus. This utility will also work while logged into TS.
If, when you run the utility, you receive a message that states "DriveMappingUtility has encountered a problem and must close...," you probably need upgrade to the latest version of the .NET Framework. Please send a support request to ccit@columbia.edu.
How-to Use
Click on the link in the following section to download the utility to your computer. Double-click on the executable file once it has finished downloading.
If the utility successfully maps the drives this screen will appear: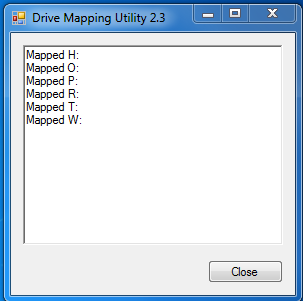 You may get the error message "Failed to map," in which case the drive was unable to be mapped.
Download