CCleaner is a simple system maintenance tool that easily and quickly removes temporary files from your Windows profile. This includes files cached by Web browsers, Office 2003/2007 applications, Adobe applications, and many other software programs. It is important to note that items in the Windows Recycle Bin will be permanently deleted and that logon session information for websites will be deleted (i.e. you will be logged out of whatever websites you are logged into when you run CCleaner).
Running CCleaner
Important: CCleaner should be run at least once a month.
Using CCleaner is simple. Close all open applications. Locate the CCleaner shortcut in your Start menu and double-click it. If you do not see the CCleaner shortcut in your Start menu please contact CCIT (ccit@columbia.edu).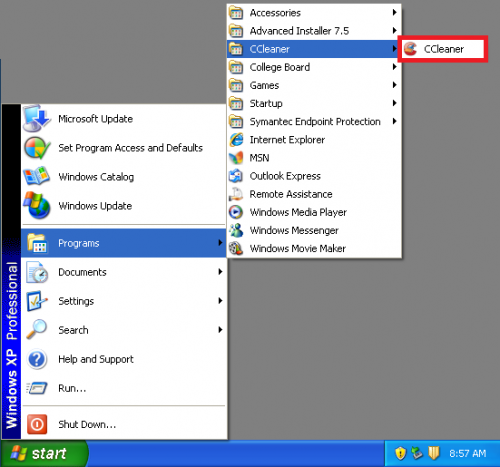 The CCleaner icon will appear in the Windows taskbar after the program is launched. You will not see any other indication that the program is running. The icon will disappear when CCleaner is finished removing temporary files. You may experience minor computer slowness for about a minute while CCleaner runs. If you run CCleaner often it will take only a few seconds to remove files.