This site is intended to provide, in one centralized location, the tools and resources needed to facilitate remote work, remain productive, and continue to propel the work of the College in support of our faculty, students, families and alumni in an unprecedented time for our community. This is also a space where College staff will be provided with access to information and the support needed in a challenging, dynamic and quickly evolving situation.
Staff Support Resources
About COVID-19
We recognize this is a dynamic, and potentially confusing, situation due to all the information coming in from various directions. These are some resources that may provide useful and timely information:
Travel
Travel for Columbia business
All Columbia business travel, both international and domestic, is suspended.
Personal travel
Any staff member who travels to any CDC-designated at-risk area may be required to self-isolate for up to 14 days (or more) before returning to work. Please note that as the situation evolves, the addition of locations is likely. In this case, the employee may be required to charge leave time – Vacation or Personal Days if a remote work arrangement is not possible.
Do You Need to Self-Isolate for COVID-19?
Click on the image to download the flyer as a PDF.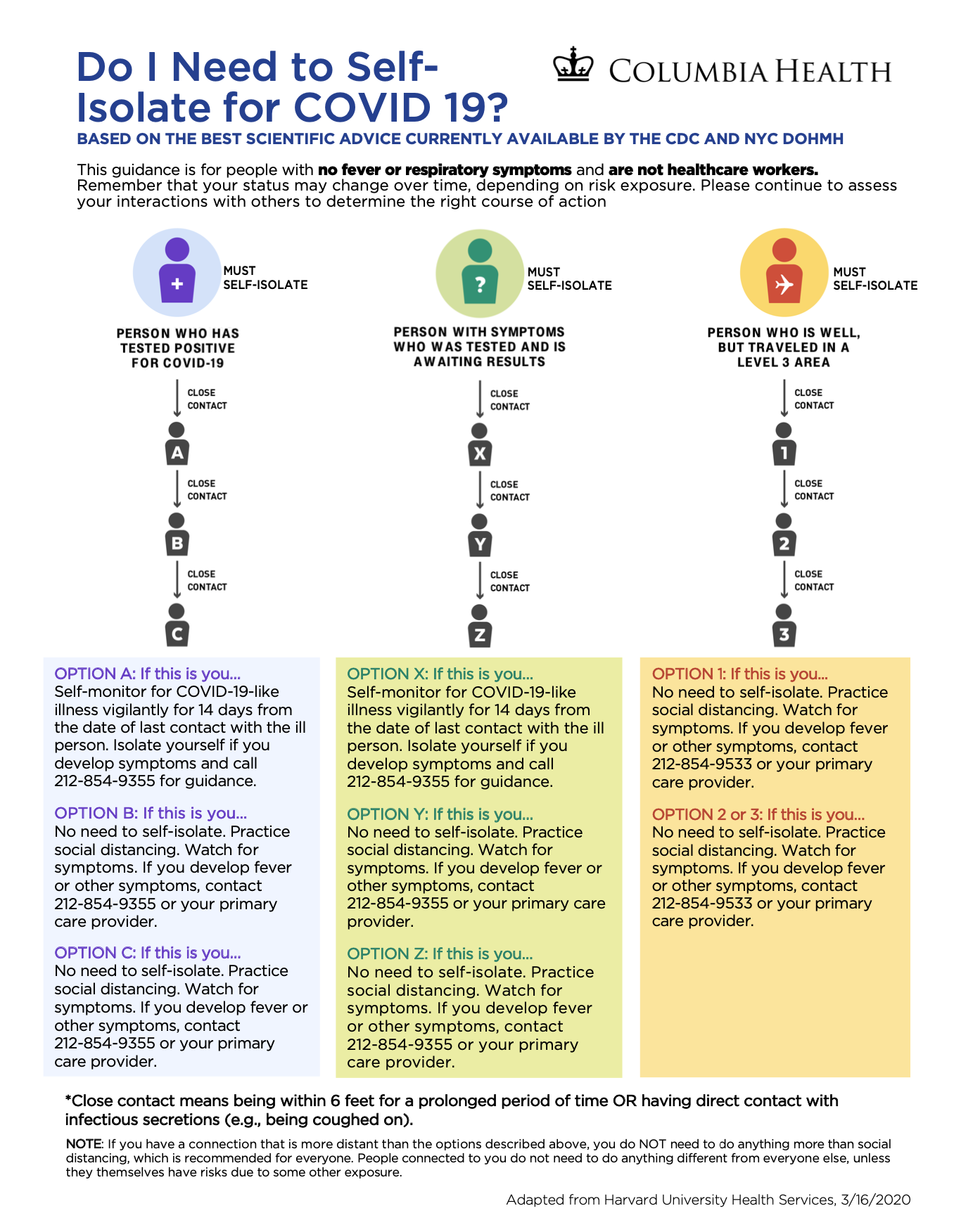 Coping with Stress
As further resources for staff please see the following articles about dealing with uncertain times.
Employee Assistance Program (EAP), a network of free services, provided by Humana, to help you and your household members cope with issues experienced in everyday life and as well as in times of uncertainty.
Working Remotely
Please review the following articles about setting yourself up for productive remote work.
If you have additional questions about remote work, recording your time, etc. please be in touch with your manager or cchr@columbia.edu.
---
CCIT Resources for Remote Work
Please refer to CCIT's presentation on Remote and Collaborative Tools for assistance with remote work. You may view it below if you are logged into LionMail.
Many tools that you use for your everyday work can be accessed from any location. The Google Suite of tools, including LionMail, Google Drive, Google Docs, and Google Sheets, are accessible by logging into lionmail.columbia.edu. College-specific resources, such as shared network storage, can also be accessed remotely. Tools for accessing this, and other data, are outlined below.
I want to...
I should...
Host or participate in a meeting
Use Zoom or Google Hangouts; if you would like a Zoom Pro account, contact us at ccit@columbia.edu for assistance.
Forward my work phone to another phone
See the Call Forwarding instructions

Access online campus resources, including:

Accounting and Reporting at Columbia (ARC
Business Objects
CCE's CRM
Data Group Report Server

Use the Columbia University VPN

Use specialized desktop software not on my computer, such as:

Microsoft Suite (Word, Excel, PowerPoint, Access)
OnBase
PowerFAIDS
SIS

Use the College's Remote Desktop Services

Access shared network storage and personal drives

(O, P, R, Q, U, W and H)
(Groups, Projects, Groups2)

Columbia issued laptops and surfaces:

Non-Columbia issued laptops and surfaces:

Contact CCIT for assistance

Email ccit@columbia.edu or call 212-851-9713
Columbia University VPN
The University offers a virtual private network (VPN) service to all staff. A VPN allows a desktop or laptop located off campus to securely access the University's network and online resources. Many services offered by both the University and College may only be available while on campus. The VPN allows you to connect to these resources from a remote location. The VPN also creates a secure connection by which you can access resources while using a device not on campus. All staff are automatically provisioned a VPN account.
To connect to the VPN, you will need to install the Cisco AnyConnect client on your device. CUIT's website provides instructions for downloading and installing the client. All CCIT issued laptops already have the AnyConnect client installed and configured. Please contact the CCIT Service Desk at ccit@columbia.edu for assistance installing the VPN client on your personal device, if needed.
Once connected to the University VPN, College laptops that were issued by CCIT will be able to access shared network storage normally as if you were on campus.
Remote Desktop Services
CCIT provides virtual desktops via Microsoft's Remote Desktop Service (RDS). Your "H:\" drive and the shared drives are available via RDS, as is much of the same software that is installed on CCIT-issued workstations including Microsoft Office, the OnBase client, and PowerFAIDS.
Call Forwarding
Rolm phones, NetPhone, and Unified Communications RingCentral users can forward incoming calls and check voicemail messages. You can forward incoming calls to any number.
Rolm Phones
To forward calls on Rolm Phones, do the following:
Get a dial tone, and press FORWD (or #9).
Dial the extension to which you want your calls forwarded. If you want to forward to a non-Columbia line, dial 9+area code + phone number.
Hang up.
To cancel forwarding:
Wait for a dial tone and press FORWD (or # # 9).
Hang up.
NetPhone
For College staff that use CUIT's NetPhone, log into the NetPhone portal to setup calling forwarding.
RingCentral
For College staff that use CUIT's Unified Communications tool RingCentral, you can make and receive calls from your work telephone virtually.
Using Your College-Issued Laptop or Surface
If you have a College-issued laptop or Microsoft surface, please remember the following:
Make sure to bring your laptop's charger with you. Laptop chargers are not universal, so it's important to have the correct one with you.
Before you leave campus, log into your laptop using your College credentials. If you don't, you may not be able to log into your computer from off campus.
Do not leave your computer unattended or unlocked while not in use. You have access to confidential and sensitive information, and it's critical to ensure that only authorized individuals have access to that information.
Access Shared Drives
The O, P, R and H drives are available via CCIT's Remote Desktop Services. Please see the Remote Desktop Services section, above, for instructions.
Protecting Sensitive Data
Please refer to CC Data Group's training presentation on Protecting Sensitive Information about securing data with Microsoft Office or WinZip software. You may view it below if you are logged into LionMail.
Collaborating Remotely
The University provides several tools for meeting remotely that can be used at little or no charge to your department.
Zoom
Zoom is a video conferencing platform that can be used to meet with Columbia and non-Columbia affiliates. All Columbia UNIs are issued a free 40-minute Zoom account that can be used with minimal setup. Zoom Pro accounts can be created by request for individual UNI accounts or for shared departmental mailing lists. Zoom Pro accounts cost $25 per year and will require chartstrings for activation. A Zoom Pro account allows for unlimited meeting times with up to 300 attendees. Zoom offers webinar and "Large Room" accounts for meetings that require up to 500 (or 1,000) attendees. These accounts may cost between $400 and $1400 per year, depending on your specific need. More information regarding Zoom accounts can be found on CUIT's website. Please contact the CCIT Service Desk at ccit@columbia.edu for assistance obtaining a paid Zoom account.
If you need to use Zoom with audio, you will need a device that has a microphone and speaker. Zoom can be used on a desktop, laptop, tablet, or mobile phone.
Google Hangouts
All users with LionMail accounts have access to Google Hangouts, which allows for chat, voice, video calls, and group video calls.
Google Drive, Docs, Sheets, and Slides
All users with LionMail accounts have access to Google collaborative tools within Google Drive. Text documents, spreadsheets and presentations can be collaboratively worked with easily through Drive. Google Drive is not approved storage for sensitive information that is not encrypted. Please be careful with data you create, manipulate or collaborate with via Google Drive. Please also be mindful of who you share documents with.
Functional Area:
Desktop
Infrastructure
Policy
Web Applications
Websites